It has been a very difficult time here. Three days ago on Thursday, March 28, we lost an Illinois State Trooper. She was inspecting a semi truck on the side of the road. Another semi veered into the Trooper's car and the stopped semi. It was a huge fiery crash. Brooke was outside of her car and did not survive. The trucker that veered violated Scott's Law. That's the law in Illinois while it is called the Move Over Law in other states. We are beyond heartbroken.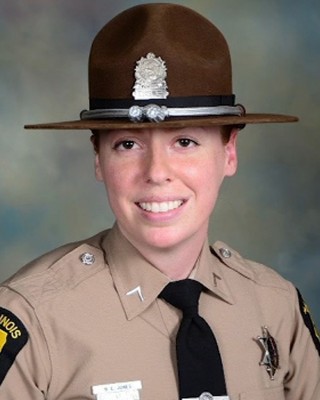 Trooper Brooke Jones-Story, 34, grew up in our area. She attended the school in our village. Ray was her school counselor. She was an athlete. Ray was one of her high school volleyball coaches. She spent time in our home. She was fun to be around and she was funny. Ray recalls the day she was accepted into a college Criminal Justice program. She was SO EXCITED! Being a law enforcement officer was what she wanted to do. She lived her dream for almost 12 years.
As we mourn with her family, her police family, and her friends, we must also remember how this is affecting others. Her family and colleagues are devastated as are we. One of our sons worked with Brooke. He is an Illinois State Trooper also; he is a command officer. So we have some grandchildren that are in a law enforcement family. We had the grands for a couple of days while their parents dealt with some of the tragedy. These children, like other law enforcement officers' children, have questions - some are voiced while others aren't. They are afraid. They don't want to lose either of their parents. I certainly can see why they may not think this is a good job anymore.
Brooke was the 15th Illinois State Trooper to have her squad car hit this year with a Scott's Law violation. She is the second Illinois State Trooper to lose her life due to Scott's Law violation this year.
Is it really that hard to MOVE OVER for an emergency vehicle with lights flashing on the side of the road? If you can't move over, then SLOW DOWN. What is wrong with people? How many people have to be hit for people to learn? The people being hit are husbands, wives, moms, dads, sons, daughters. They are real people who have dedicated themselves to a life of service.
I guess I have a lot of questions too.
And just so you know,
less than 48 hours after Brooke was hit, Illinois State Trouper
Gerald Ellis, 35, was hit head on while driving in his squad. He stopped a person going the wrong way and saved the lives of the people in the cars behind him. He leaves a wife and two young children. Trooper Ellis was in a neighboring District.
The last three days have been a long week and I am very sad. This week we have a visitation and a funeral. It will be another sad week.